The COVID-19 crisis has changed the retail market. With most people locked down in their homes, shopping for anything other than groceries has obviously been mostly online. But what are people shopping for most in this unprecedented time, and how are retailers responding to consumer needs?
We took a close look at what Amazon calls its "Movers & Shakers," which are products with the biggest gains in sales rank over a 24-hour period, updated hourly. This category gives us an idea of which products in various departments are highly sold at a given moment, indicating Amazon's current trending products. Because Amazon operates in 16 countries, examining this data should produce insight into a global market trend analysis.
We at GrowByData collected the Movers & Shakers Marketplace Intelligence in the United States, Italy, Spain, Brazil, Mexico, Canada, United Kingdom, Australia, Germany, France, India, Japan, and the United Arab Emirates, Singapore, Turkey, and China for about a week. We looked at 198,361 product ASINs (Amazon Standard Identification Numbers) during our one-week collection period from March 26 to April 4, 2020.
Here are the takeaways from our data sorted by Marketplace, Department, and Product.
By Marketplace
The products featured in Amazon's Movers & Shakers imply that more consumers are buying a variety of products across the global market with high competition between products. During the weeklong monitoring period, Amazon France led the marketplace with 17,638 distinct products taking the top sales rank jump in 32 categories. The top five Amazon Marketplaces with the highest fluctuation of Movers & Shakers' products were France, Germany, Italy, Australia, and the United Kingdom.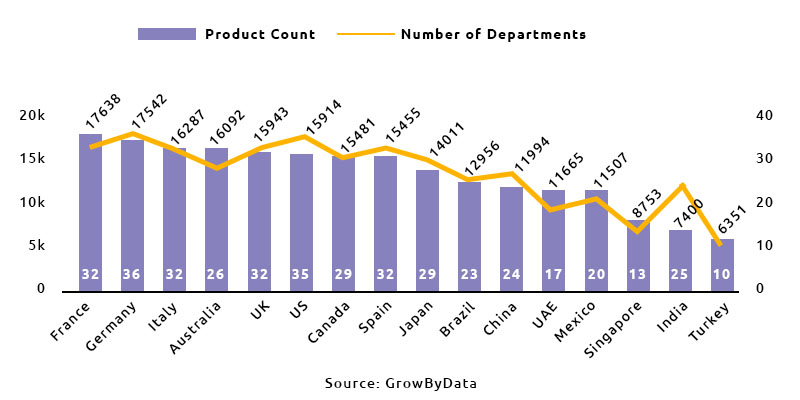 Across all marketplaces, around 27% of products retained a top 100 sales rank with 33% of those products seeing price changes during the period, and 44% of them ending up priced lower than before the monitoring period. About 66% of the products retained a raised price through the ranking. The United Kingdom had the highest percentage of product price retention at 44% with a total of 36% price changes, of which 28% ended up lowered overall and 72% ended up raised.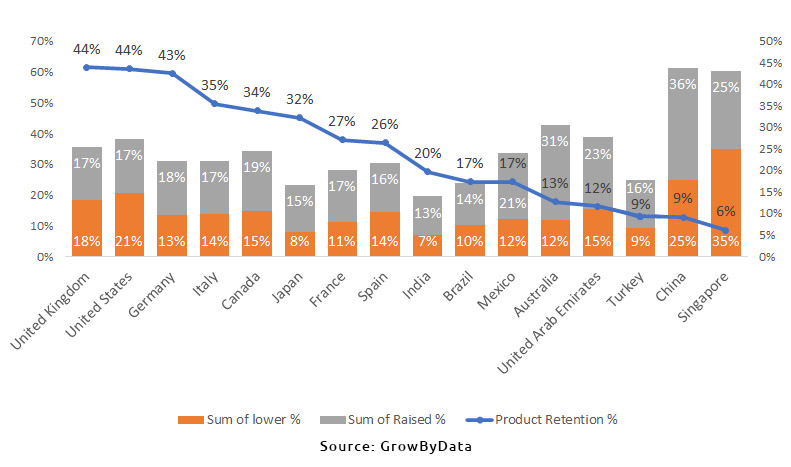 By Department
Below are the top 10 departments that had the highest product fluctuations. Home and Kitchen won out with 14,856 products showing the biggest changes, which is not surprising as the department is available in all 16 Amazon international marketplaces. Clothing, Shoes, and Accessories came in second on the list with 12,534 products in 15 marketplaces. Surprising no one at this unprecedented time, the top departments were Electronics, Books, Grocery, Baby, Toys and Games, and Health, Household, and Personal Care. The departments of Sports, Outdoors, and Beauty were also among the top 10, indicating consumer demand for these products despite the COVID-19 crisis.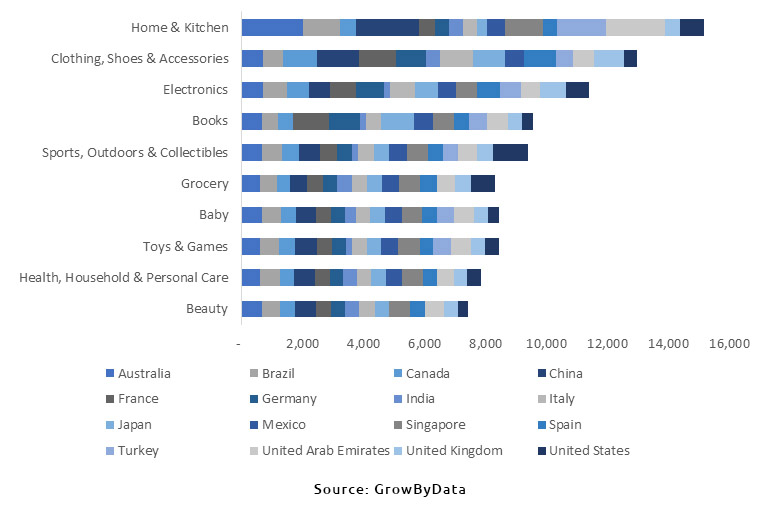 The graph below shows product retention in the top 10 departments. The Electronics department showed the highest product retention percent with price changes in 32% of products, of which 16.1% of the ASINs had raised prices and 15.8% had lowered prices. Home and Kitchen showed 17% retention with 35% of prices changed, of which 14% were lowered.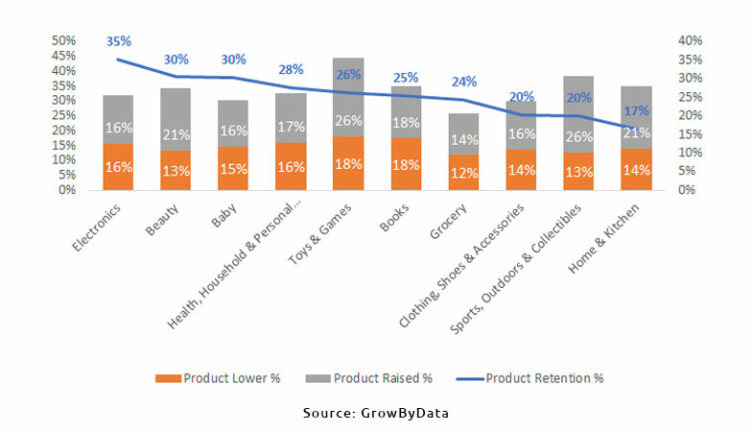 By Product
The graph below shows the top five products that moved drastically in sales rank, from entirely unranked to top-ranked in Amazon Market Places. Again, it will surprise no one that 20% of these products were health-related, particularly masks and sanitizer products. Alongside Health, Books (16%), Toys (9%), kitchens (9%), and Sports (6%) completed the top five product categories.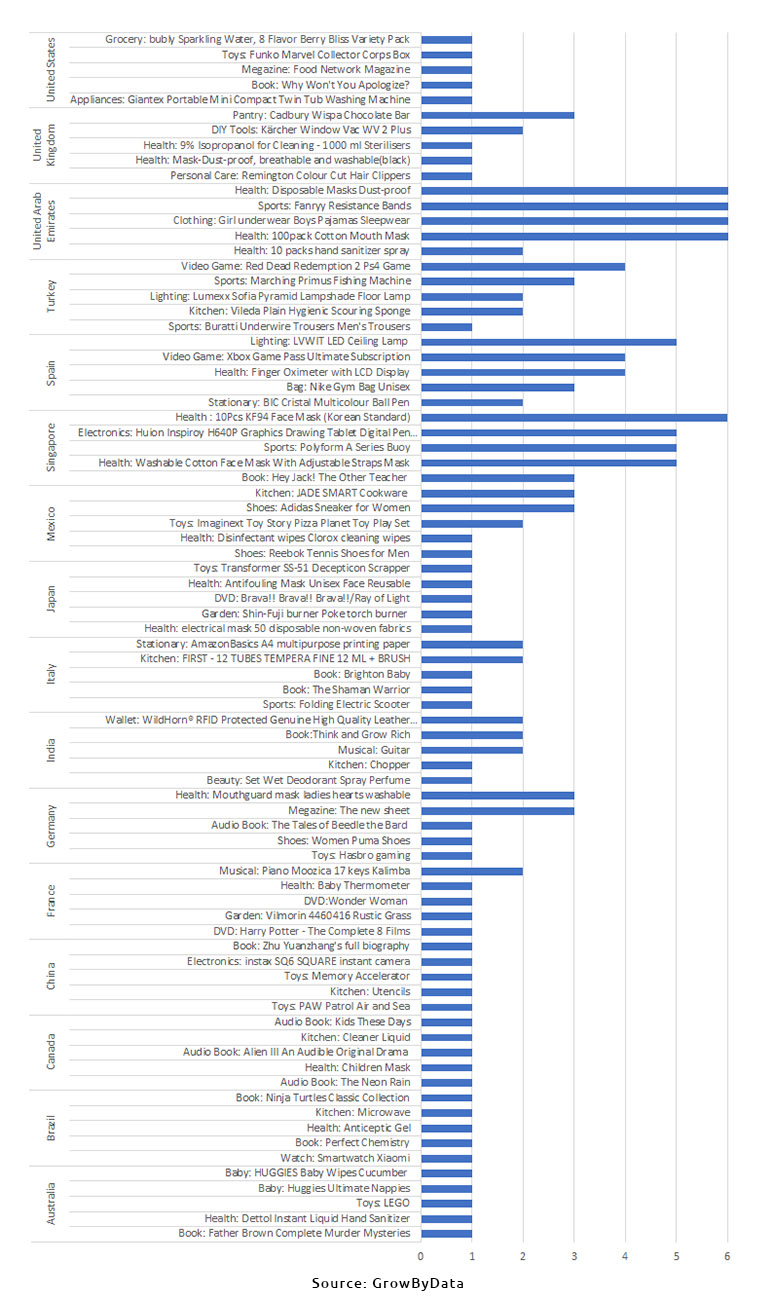 As we all know, Amazon is the biggest global marketplace. It is the highest-ranked online shopping marketplace, and it ranks 14th overall in global sites. As per Finances Online, Amazon's total e-commerce market share is projected to be around 52.4% in 2019, up from 48% in 2018, and is predicted to account for 13.7% of total worldwide online market sales. Right now, the world is going through the biggest pandemic crisis of a generation, which has confined people at home in many countries, which means Amazon is seeing more traffic than ever. That means Amazon's Movers & Shakers are now our most accurate way of analyzing consumer buying trends and market demand.
Here's how retailers can use this data to stay competitive during this difficult time:
Fill inventory or feature new products based on Amazon's Movers & Shakers.
Push trending products in the country or marketplace where they are currently ranking.
Boost ad campaigns by bidding high when products are ranking.
Track prices to identify opportunities for price-matching.
If you like what you just read – feel free to check out our Search Intelligence solution to gain an edge in your competitive landscape.